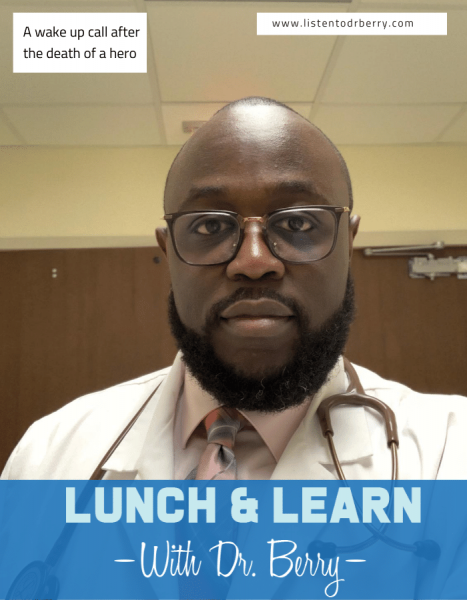 Let's talk about a wake-up call after the death of a hero…
Over the weekend, the world was shocked over the death of actor Chadwick Boseman who is best known for playing Black Panther in the hit Marvel superhero franchise. Gone too soon, the actor lost his battle against colon cancer at the age of 43 and died at his home in Los Angeles with his wife and family by his side.
Over 75 percent of colon and rectal cancers happen to people with no known risk factors, which is why regular screening is so important. In this episode, we talk more about colon cancer, its causes and why it's a deadly enemy.
Text LUNCHLEARNPOD to 44222 today or sign up at www.listentodrberry.com to join the mailing list.
Remember to subscribe to the podcast and share the episode with a friend or family member.
Listen on Apple Podcast, Google Play, Stitcher, Soundcloud, iHeartRadio, Spotify
Sponsors:
Links/Resources:
Social Links:
If you are looking to help the show out
Leave a Five Star Review on Apple Podcast because your ratings and reviews are what is going to make this show so much better
Share a screenshot of the podcast episode on all of your favorite social media outlets & tag me or add the hashtag. #lunchlearnpod
Download the MP3 Audio file, listen to the episode however you like.
Please follow and like us: