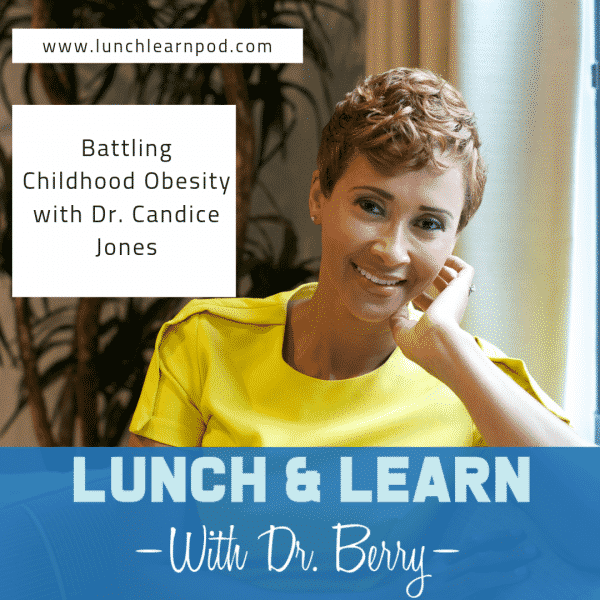 Lets Talk about Childhood Obesity…
On this week's episode of the Lunch and Learn with Dr. Berry we have a special treat in store with Dr. Candice Jones, who is a board certified pediatrician and host of the wildly popular podcast KIDing Around with Dr. Candice. Being an Internist gives me the opportunity to speak on a wide range of topics affecting adult medicine but one of the questions I always got from the Lunch and Learn community was about children and before this week I didn't have any answers.
Fortunately this week Dr. Jones lends her expertise to bring to light a much-needed discussion on childhood obesity. I talk a lot about adulthood obesity and its many ramifications but obesity doesn't just start to affect us when we turn 18.
Thankfully I got an expert to teach the Lunch and Learn Community about the topic at hand including some of the common risk factors associated with childhood obesity, complications and treatment options.
We also get to talk about how much obesity has changed her practice over time because if you think only the adults are affected you have another thing coming.
Remember to subscribe to the podcast and share the episode with a friend or family member.
Listen on Apple Podcast, Google Play, Stitcher, Soundcloud, iHeartRadio, Spotify
Sponsors:
Links/Resources:
Social Links:
If you are looking to help the show out
Leave a Five Star Review on Apple Podcast because your ratings and reviews are what is going to make this show so much better
Share a screenshot of the podcast episode on all of your favorite social media outlets & tag me or add the hashtag.#lunchlearnpod
Download the MP3 Audio file, listen to the episode however you like.
Please follow and like us: