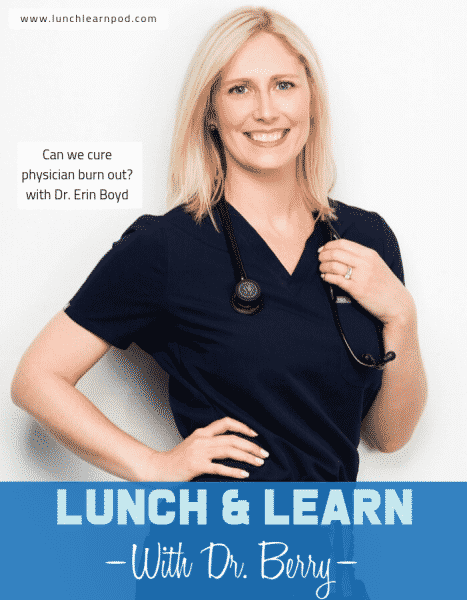 Let's talk about physician burnout…
On this week's episode of the Lunch and Learn with Dr. Berry we have Dr. Erin Boyd, an Emergency Medicine physician & former classmate to try and help us answer the question is there a cure for burnout. Dr. Boyd helps give her personal account on physician burnout and how she is able to navigate this world of being a physician when it has gotten harder than ever.
Hear how Dr. Boyd chooses to look after her mental health as an attending physician and why its important now more than ever to make sure physicians take care of the number one patient THEMSELVES!!
Text LUNCHLEARNPOD to 44222 to join the mailing list.
Remember to subscribe to the podcast and share the episode with a friend or family member.
Listen on Apple Podcast, Google Play, Stitcher, Soundcloud, iHeartRadio, Spotify
Sponsors:
Links/Resources:
Social Links:
If you are looking to help the show out
Leave a Five Star Review on Apple Podcast because your ratings and reviews are what is going to make this show so much better
Share a screenshot of the podcast episode on all of your favorite social media outlets & tag me or add the hashtag.#lunchlearnpod
Download Episode 129 Transcript
Download the MP3 Audio file, listen to the episode however you like.
Please follow and like us: