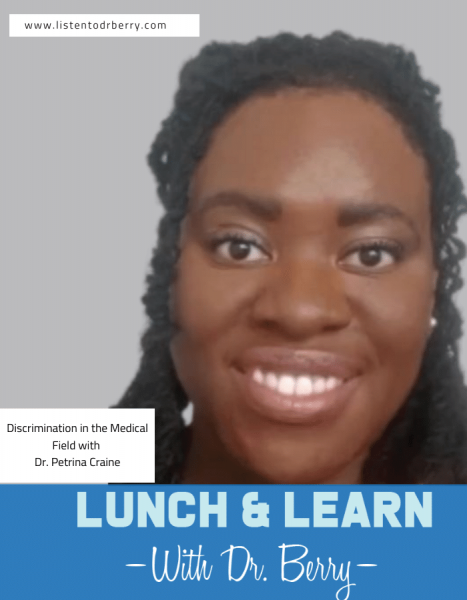 Let's talk about Discrimination in the Medical Field…
On this week's episode of the Lunch and Learn with Dr. Berry we have Dr. Petrina Craine from Memphis, TN. She is an Emergency Room Physician currently practicing in New York. Her interests include advocating for underserved communities, promoting diversity and inclusion, and creating health media as a physician journalist.
This week she is on the show to discuss her recent contribution to the anthology "The Chronicles of Women in White Coats Vol 2". Find out how she has been able to deal with racism throughout her process of medical education, the toughest part about being a black woman in medicine and what she is doing to help bridge the gap.
Text LUNCHLEARNPOD to 44222 today or sign up at www.listentodrberry.com to join the mailing list.
Remember to subscribe to the podcast and share the episode with a friend or family member.
Listen on Apple Podcast, Google Play, Stitcher, Soundcloud, iHeartRadio, Spotify
Sponsors:
Links/Resources:
Social Links:
If you are looking to help the show out
Leave a Five Star Review on Apple Podcast because your ratings and reviews are what is going to make this show so much better
Share a screenshot of the podcast episode on all of your favorite social media outlets & tag me or add the hashtag. #lunchlearnpod
Download the MP3 Audio file, listen to the episode however you like.
Please follow and like us: