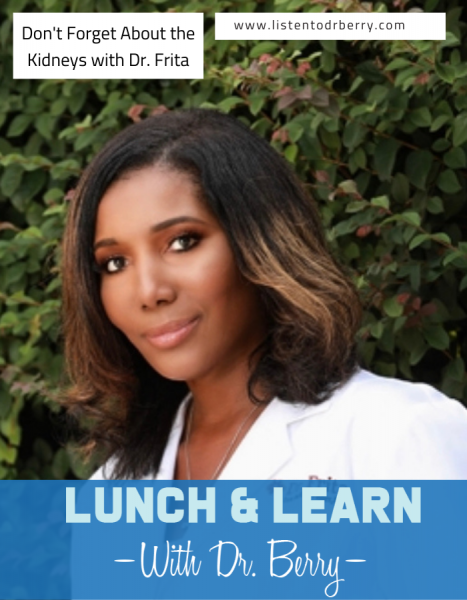 Let's talk about our Kidneys…
This week we are talking about one of these most important organs in the body.
The kidneys absorb waste products from the blood and excrete them in the urine. Kidney disease refers to damage or malfunction of the kidneys which interferes with their ability to perform these functions. The chronic variety involves insidious onset over months or years, and chronic kidney disease (CKD) is a chronic condition that significantly impairs kidney function. Chronic kidney disease can occur in a variety of conditions including high blood pressure, diabetes mellitus, polycystic kidney diseases, cancers and other causes
15% of US adults or 37 million people are estimated to have CKD.
As many as 9 in 10 adults with CKD do not know they have CKD.
About 2 in 5 adults with severe CKD do not know they have CKD.
If that isn't enough to get you really taking a close look at how well your kidneys are working then I will just have to let my special guest Dr. Frita do it for me.
She did a triple board-certified Nephrologist, host of the popular YouTube channel With Dr. Frita, national speaker, sits on the board of the National Kidney Foundation in Atlanta, and has multiple TV appearances including HLN Weekend Express, BNC, the Emmy Award-Winning Paternity Court, and more.
In this week's episode learn why the kidneys are so important thanks to our special guest Dr. Frita.
Text LUNCHLEARNPOD to 44222 today or sign up at www.listentodrberry.com to join the mailing list.
Remember to subscribe to the podcast and share the episode with a friend or family member.
Listen on Apple Podcast, Google Play, Stitcher, Soundcloud, iHeartRadio, Spotify
Sponsors:
Links/Resources:
Social Links:
If you are looking to help the show out
Download the MP3 Audio file, listen to the episode however you like.