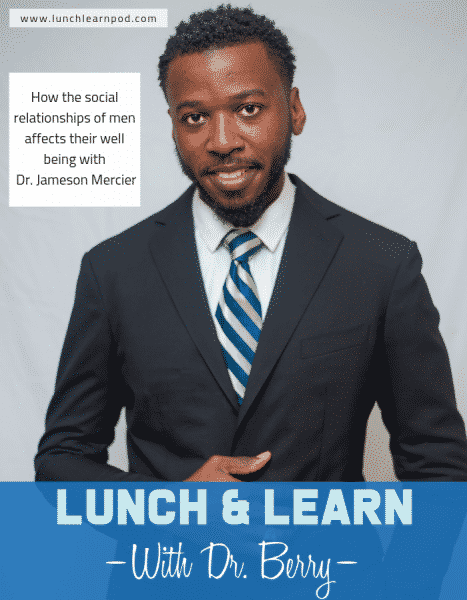 Let's Talk about Men's Social Relationships…
On this week's episode of the Lunch and Learn with Dr. Berry we have Dr. Jameson Mercier, a Licensed Clinical Social Worker and Doctor of Marriage and Family Therapy. His areas of specialization include Marriage/Family Therapy and fatherhood and this week the Lunch and Learn Community is in for a treat as he comes on to discuss the importance of social relationships for men and what happens when the correct ones are not in place.
As we wrap up the end of men's health month I thought it would be extremely important to touch on mental health in men. When we talk about men's health month quite often we focus on the big diseases such as prostate cancer, colon cancer, and addiction but I know that I have come across many men who have these poor social habits and how it affects all their relationships.
I talked about this before but as a outpatient clinical specialist one of the top 2 reasons why men would come to see me for an appointment was either someone was dragging them to the office or erectile dysfunction complaints.
A recent journal article noted:
"Social connections can act as a buffer against the impact of stressful or negative life experiences on mental health, the onset of mental ill health, including depression and suicidal behavior and can increase the likelihood of those with mental health problems seeking professional help."
Social relation is defined as the relationship between two individuals and I know that after listening to this episode you are going to come away with a much better understanding of why your male family member acts the way they act.
Remember to subscribe to the podcast and share the episode with a friend or family member
Listen on Apple Podcast, Google Play, Stitcher, Soundcloud, iHeartRadio, Spotify
Sponsors:
Links/Resources:
Social Links:
If you are looking to help the show out
Leave a Five Star Review on Apple Podcast because your ratings and reviews are what is going to make this show so much better
Share a screenshot of the podcast episode on all of your favorite social media outlets & tag me or add the hashtag.#lunchlearnpod
Download Episode 114 Transcript
Download the MP3 Audio file, listen to the episode however you like.
Please follow and like us: