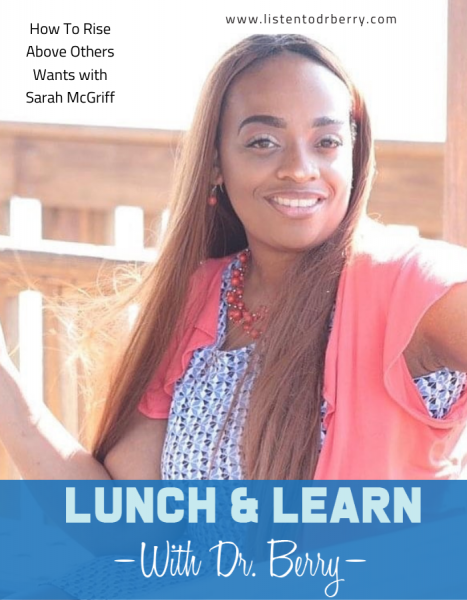 Let's talk about How To Rise Above Others Wants…
This week on the podcast we have Sarah McGriff, a woman with many professional hats. She is an author, film producer, and nurse who took the join the podcast to discuss a slew of topics such as her concern about the mental health disparities in the Black community, stigmas surrounding the black community, and the importance of being an advocate for ourselves and for others when it comes to addressing mental health.
Text LUNCHLEARNPOD to 44222 today or sign up at www.listentodrberry.com to join the mailing list.
Remember to subscribe to the podcast and share the episode with a friend or family member.
Listen on Apple Podcast, Google Play, Stitcher, Soundcloud, iHeartRadio, Spotify
Sponsors:
Links/Resources:
Social Links:
If you are looking to help the show out
Leave a Five Star Review on Apple Podcast because your ratings and reviews are what is going to make this show so much better
Share a screenshot of the podcast episode on all of your favorite social media outlets & tag me or add the hashtag. #lunchlearnpod
Download the MP3 Audio file, listen to the episode however you like.
Please follow and like us: