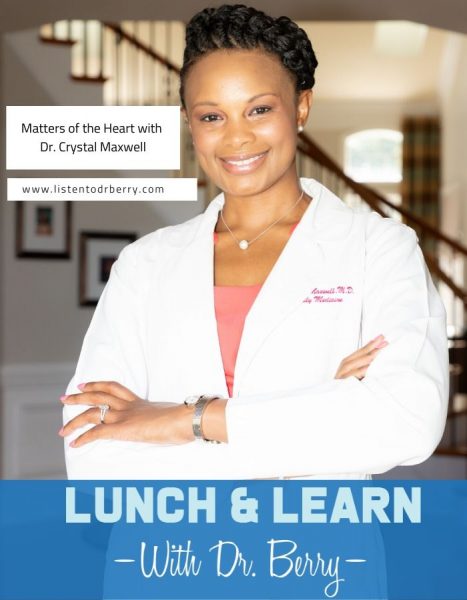 Matters of the Heart with Dr. Crystal
On this week's episode of the Lunch and Learn with Dr. Berry we have Dr. Crystal Maxwell, Dr. Crystal Maxwell is from Foxworth, MS where she graduated with honors from West Marion High School as Valedictorian in 1999. She proceeded to Spelman College and graduated Magna Cum Laude College with a B.S. in Biology in 2003. She graduated from the University of Tennessee College of Medicine with a medical doctorate in 2007 and went on to specialize in Family Medicine at the University of Tennessee Family Medicine Residency Program in Jackson, TN in 2010. Dr. Maxwell completed the Physician Executive MBA program at Auburn University in 2016.
After completing her residency training in 2010, Dr. Maxwell joined Sandhills Medical Foundation at its Jefferson, SC location as a Family Physician and she continues to serve in this position. Sandhills Medical Foundation is a federally qualified community health center that serves people of all backgrounds with specific assistance provided to those with financial disadvantages. She's responsible for the total care of her patients. Dr. Maxwell manages both chronic diseases such as diabetes, hypertension, and emphysema and acute problems such as respiratory and gastrointestinal infections.
Text LUNCHLEARNPOD to 44222 today or sign up at www.listentodrberry.com to join the mailing list.
Remember to subscribe to the podcast and share the episode with a friend or family member.
Listen on Apple Podcast, Google Play, Stitcher, Soundcloud, iHeartRadio, Spotify
Sponsors:
Links/Resources:
Social Links:
If you are looking to help the show out
Leave a Five Star Review on Apple Podcast because your ratings and reviews are what is going to make this show so much better
Share a screenshot of the podcast episode on all of your favorite social media outlets & tag me or add the hashtag. #lunchlearnpod
Download the MP3 Audio file, listen to the episode however you like.
Please follow and like us: