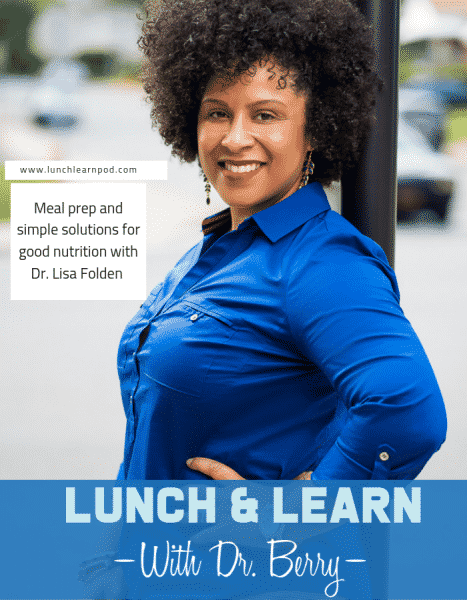 Let's Talk about Meal Prep for Good Nutrition…
On this week's episode of the Lunch and Learn with Dr. Berry I got the chance to talk with Dr. Lisa Folden. I love her story as she is a physical therapist in training but soon realized the importance of nutrition and the lack thereof was having on her practice as well as her personal well being. Dr. Folden has her own practice Healthy Phit Physical Therapy & Wellness Consultants where she marries the art of physical fitness with nutritional behavior. She is on this week to talk about one of the most commonly noted but overlooked aspects of lifestyle modification which is meal prepping.
As I have made lifestyle changes of my own, I know how difficult it can be to not only make the change to better eating but then to plan out those better meals but Dr. Folden does an amazing job giving us easy & actionable tips to get our journey started. We also got a chance to talk about her book "Healthy Made Easy: The Ultimate Wellness Guide for Busy Moms" and her upcoming book on meal planning.
Text LUNCHLEARNPOD to 44222 to join the mailing list.
Remember to subscribe to the podcast and share the episode with a friend or family member.
Listen on Apple Podcast, Google Play, Stitcher, Soundcloud, iHeartRadio, Spotify
Sponsors:
Links/Resources:
Social Links:
If you are looking to help the show out
Leave a Five Star Review on Apple Podcast because your ratings and reviews are what is going to make this show so much better
Share a screenshot of the podcast episode on all of your favorite social media outlets & tag me or add the hashtag.#lunchlearnpod
Download Episode 121 Transcript
Download the MP3 Audio file, listen to the episode however you like.
Please follow and like us: