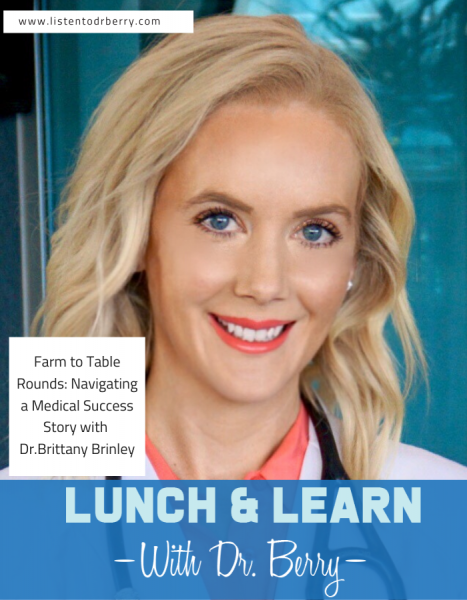 Let's talk about Navigating a Medical Success Story…
On this week's episode of the Lunch and Learn with Dr. Berry we have Dr. Brittany Brinley, a physician and entrepreneur who grew up in a small town in Ohio and despite not having any support growing up, having to drive over 30 mins just to see her pediatrician and being apart of a senior class that had less than 100 students she persisted on her goal to become a doctor.
Often times we see when professionals hit the peak of their career goals and mistake the work that it took to get them there. Dr. Brinley does an amazing job being open about her initial struggles on this journey to become a physician.
Text LUNCHLEARNPOD to 44222 today or sign up at www.listentodrberry.com to join the mailing list.
Remember to subscribe to the podcast and share the episode with a friend or family member.
Listen on Apple Podcast, Google Play, Stitcher, Soundcloud, iHeartRadio, Spotify
Sponsors:
Links/Resources:
Social Links:
If you are looking to help the show out
Leave a Five Star Review on Apple Podcast because your ratings and reviews are what is going to make this show so much better
Share a screenshot of the podcast episode on all of your favorite social media outlets & tag me or add the hashtag.#lunchlearnpod
Download the MP3 Audio file, listen to the episode however you like.
Please follow and like us: