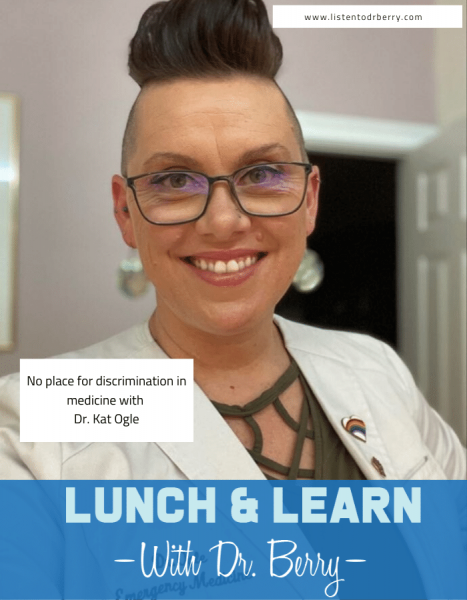 Let's talk about descrimination in medicine…
On this week's episode of the Lunch and Learn with Dr. Berry we have Dr. Kat Ogle a board-certified Emergency Medicine physician, currently practicing at The George Washington University Hospital, Washington VA Medical Center and United Medical Center in Washington, DC. As a first-generation college graduate and physician she began her career as a registered nurse. Dr. Ogle is on faculty at George Washing University where she serves as the medical instructor for residents, medical students & fellows.
This week we have Dr. Ogle on the show to discuss her contribution to the "The Chronicles of Women in White Coats Vol 2". We have an amazing conversation on inclusion and the need to remove the discriminatory practices in medicine.
Text LUNCHLEARNPOD to 44222 today or sign up at www.listentodrberry.com to join the mailing list.
Remember to subscribe to the podcast and share the episode with a friend or family member.
Listen on Apple Podcast, Google Play, Stitcher, Soundcloud, iHeartRadio, Spotify
Sponsors:
Links/Resources:
Social Links:
If you are looking to help the show out
Leave a Five Star Review on Apple Podcast because your ratings and reviews are what is going to make this show so much better
Share a screenshot of the podcast episode on all of your favorite social media outlets & tag me or add the hashtag. #lunchlearnpod
Download the MP3 Audio file, listen to the episode however you like.
Please follow and like us: