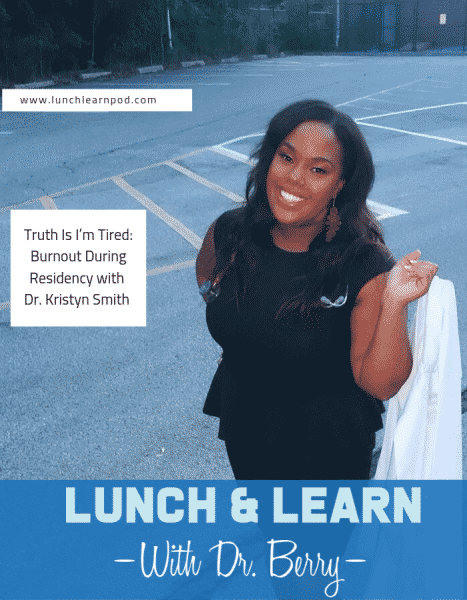 Let's talk about resident physician burnout…
On this week's episode of the Lunch and Learn with Dr. Kristyn Smith an Emergency Medicine resident in Philadelphia to give us some amazing insight on the feeling of burnout at the level of the resident physician. Dr. Smith's current interest include health disparity reduction and cultural & linguistic competence for healthcare providers.
As we have heard already with our two previous podcast episodes (125 & 126) featuring medical students we know the effects physician burnout has at their level but it was great to hear Dr. Smith talk about how being much a resident is affected. She also does a great job providing actionable tips to help residents from all specialities manage burnout during training.
Text LUNCHLEARNPOD to 44222 to join the mailing list.
Remember to subscribe to the podcast and share the episode with a friend or family member.
Listen on Apple Podcast, Google Play, Stitcher, Soundcloud, iHeartRadio, Spotify
Sponsors:
Links/Resources:
Social Links:
If you are looking to help the show out
Leave a Five Star Review on Apple Podcast because your ratings and reviews are what is going to make this show so much better
Share a screenshot of the podcast episode on all of your favorite social media outlets & tag me or add the hashtag.#lunchlearnpod
Download Episode 128 Transcript
Download the MP3 Audio file, listen to the episode however you like.
Please follow and like us: