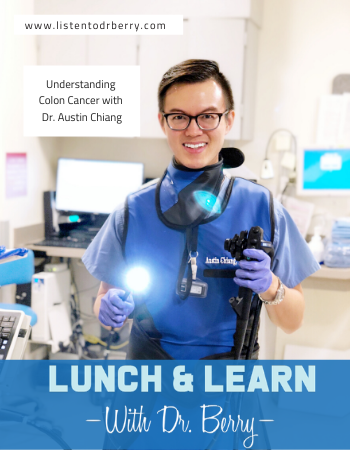 Let's talk about Colon Cancer…
On this week's episode of the Lunch and Learn with Dr. Berry we have Dr. Austin Chiang who is a triple board-certified gastroenterologist and advanced endoscopist who serves as an Assistant Professor in Medicine, Director of the Endoscopic Bariatric Program, and Chief Medical Social Media Officer for Jefferson Health in Philadelphia, PA.
March is Colon Cancer Awareness month and today we got to talk about one of the most preventable cancers we have. Dr. Chiang does a great job breaking down what is colon cancer, why do we have such a hard time getting people screened from it & his plans to make sure everyone who should get a colonoscopy actually gets one.
I also get to talk about a passion we both share which is to get as many physicians onto social media as possible. We will learn about an organization who purpose is getting the health experts (doctors) onto the platforms that they are needed.
Text LUNCHLEARNPOD to 44222 to join the mailing list.
Remember to subscribe to the podcast and share the episode with a friend or family member.
Listen on Apple Podcast, Google Play, Stitcher, Soundcloud, iHeartRadio, Spotify
Sponsors:
Links/Resources:
Social Links:
If you are looking to help the show out
Leave a Five Star Review on Apple Podcast because your ratings and reviews are what is going to make this show so much better
Share a screenshot of the podcast episode on all of your favorite social media outlets & tag me or add the hashtag.#lunchlearnpod
Download the MP3 Audio file, listen to the episode however you like.
Please follow and like us: