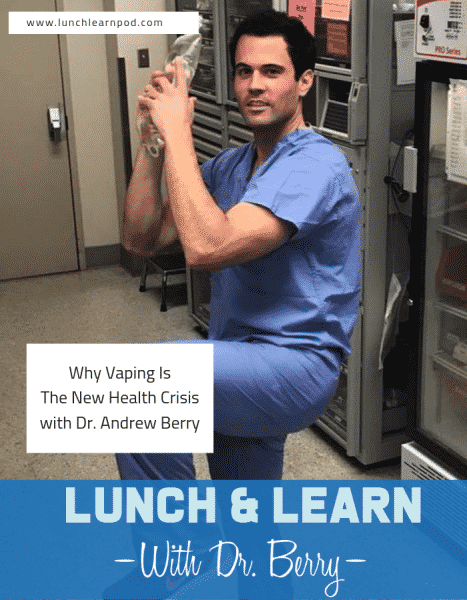 Let's talk about vaping as the new health crisis…
On this week's episode of the Lunch and Learn with Dr. Berry we have Dr. Andrew Berry, a Gastroenterology Fellow to discuss one of the most talked-about current public health crisis which is Vaping. As we have moved the public needle in regards to the harmful effects of cigarette smoking, e-cigarettes/vaping has become the alternative but unfortunately, that has come with consequences.
Dr. Berry gives some amazing facts about how this craze first began, just how many deaths are attributed to vaping and what to expect for the future of the industry.
Text LUNCHLEARNPOD to 44222 to join the mailing list.
Remember to subscribe to the podcast and share the episode with a friend or family member.
Listen on Apple Podcast, Google Play, Stitcher, Soundcloud, iHeartRadio, Spotify
Sponsors:
Links/Resources:
Social Links:
If you are looking to help the show out
Leave a Five Star Review on Apple Podcast because your ratings and reviews are what is going to make this show so much better
Share a screenshot of the podcast episode on all of your favorite social media outlets & tag me or add the hashtag.#lunchlearnpod
Download Episode 130 Transcript
Download the MP3 Audio file, listen to the episode however you like.
Please follow and like us: