Today Dr. Berry discusses the importance of men's health month and why everything ties into prevention.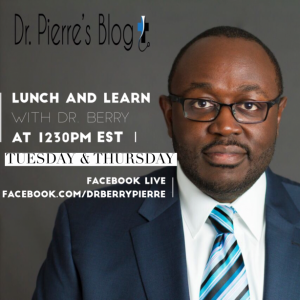 During the video you will find out
The Importance of Men's Health Month
Four Main pillars of Men's Health Month
The most common reason why men show up to the doctor's office
How important loved ones are in men's health care
Why all the problems in men's health keep pointing back to one central issue
Want to know what the topic of the next Lunch & Learn with Dr. Berry will be on, well sign up below.
Sign me Up
Or Text the word JOINTODAY to 16785067543
Lunch And Learn is a biweekly live show hosted by Dr. Berry, a Board Certified Internist, Founder of DrPierresBlog.com, Author and Speaker. Discussion topics will range from health related, public health concerns as well as personal topics that have garnered some national attention.
Please follow and like us: