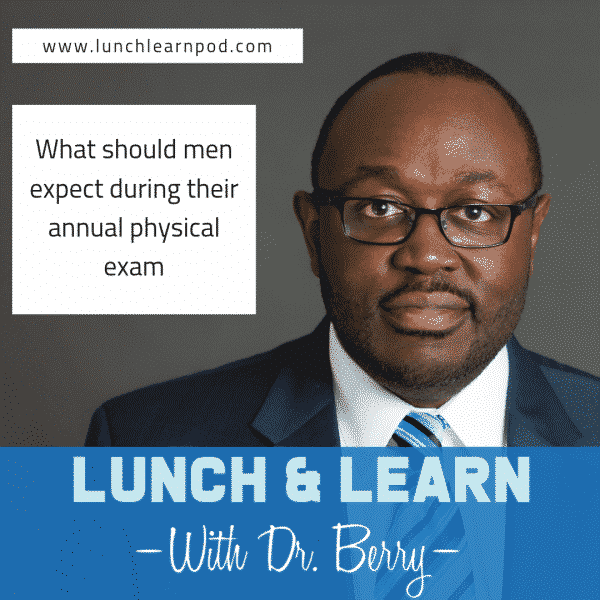 Let's Talk about Annual Physical Exam…
On this week's episode of the Lunch and Learn with Dr. Berry I am here to start off men's health month with an episode on just what to expect during your annual wellness exams. Last week on the empower yourself for better health series, I talked about the biggest reasons why men are dying earlier is that we are just unaware of our health statuses.
Our lack of going to the doctor, being educated on what are our biggest killers has attributed to the majority (8/10) top 10 leading causes of death worldwide to all disproportinately affect men greater. In fact it would likely be 9/10 if not for the fact that Alzheimers usually increases with age but we are dying to soon to experience it.
The annual physical exam is the most appointment you can make when you see a doctor because it allows the doctors to essentially check you from head to toe on what is going on. It is also where we can discover the most problems so it is extremely important to make sure your friends and family members are listening to this episode so they know what to expect.
Remember to subscribe to the podcast and share the episode with a friend or family member.
Listen on Apple Podcast, Google Play, Stitcher, Soundcloud, iHeartRadio, Spotify
Sponsors:
Links/Resources:
Social Links:
If you are looking to help the show out
Leave a Five Star Review on Apple Podcast because your ratings and reviews are what is going to make this show so much better
Share a screenshot of the podcast episode on all of your favorite social media outlets & tag me or add the hashtag.#lunchlearnpod
Download Episode 112 Transcript
Download the MP3 Audio file, listen to the episode however you like.
Please follow and like us: