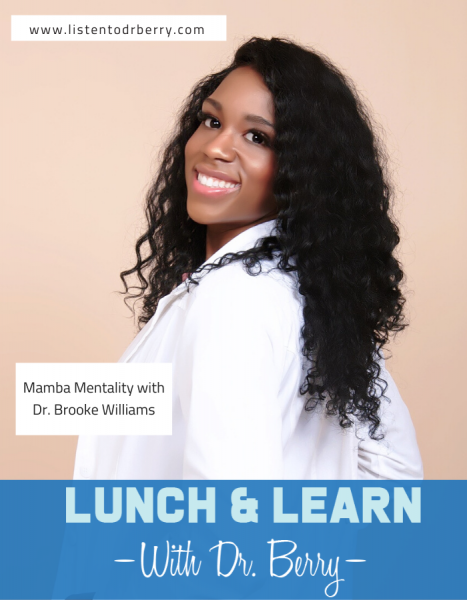 Let's talk about mamba mentality…
On this week's episode of the Lunch and Learn with Dr. Berry we have Dr. Brooke Williams, a third year Internal Medicine Resident and most importantly one of my mentees. I got the chance to meet Dr. Williams through one of my mentors, Dr. Robert Hasty and it has been such an amazing experience we decided to record one of our mentor/mentee sessions.
On this episode we get to see some of the different phases of life that Dr. Williams maintains concurrently and how she is able to juggle them all. We also talk about why mentorship is so important regardless of your career.
Text LUNCHLEARNPOD to 44222 to join the mailing list.
Remember to subscribe to the podcast and share the episode with a friend or family member.
Listen on Apple Podcast, Google Play, Stitcher, Soundcloud, iHeartRadio, Spotify
Sponsors:
Links/Resources:
Social Links:
If you are looking to help the show out
Leave a Five Star Review on Apple Podcast because your ratings and reviews are what is going to make this show so much better
Share a screenshot of the podcast episode on all of your favorite social media outlets & tag me or add the hashtag.#lunchlearnpod
Download the MP3 Audio file, listen to the episode however you like.
Please follow and like us: